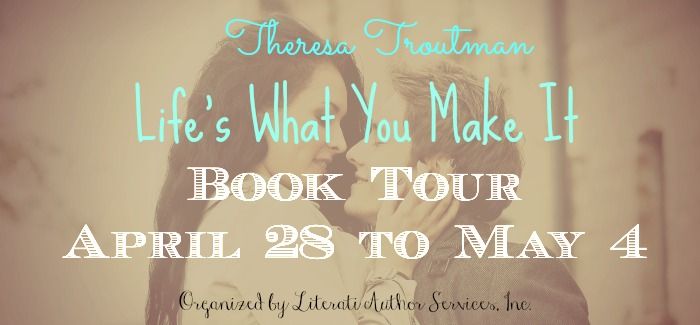 Title:
Life's What You Make It (Love's Great Adventure Series #1)
Author:
Theresa Troutman
Genre:
Mature Young Adult Romance +16
Publication Date:
April 12, 2014
Publisher:
Indie Published
Event Organized By:
Literati Author Services, Inc.
~ Synopsis ~
"She's everything I'm not and everything I want to be."
Sebastian Iron's life is spiraling out of control. Over the course of one week: Sebastian witnesses death, runs away with his best friend's girl, gets kicked out of his English prep school, and is banished to America by his domineering mother to repeat his senior year of high school.
In America, Sebastian struggles to find self-discipline and a purpose to turn his life around. He meets Tess Hamilton, the only person to show him any kindness in his new school. Little does he know, she is the savior tutor hired by his mother to help him improve his grades. The two slowly begin to build a friendship.
As their friendship blossoms, Sebastian begins to have romantic feelings for Tess. She claims to only wants a plutonic relationship, but Sebastian feels the undeniable spark that sizzles between them every time they are together.
Forces beyond their control will either bring Sebastian and Tess closer together or tear them apart.
Will Sebastian return to his old habits or find the strength to be the person worthy of Tess'love
~ About the Author ~
Theresa Troutman is a Young Adult/New Adult Romance author who lives in Pennsylvania with her husband and their crazy dog, Niko. She loves reading, theatre, traveling and is an active member of the SCBWI. My Secret Summer is her first published work. Her latest release is A Special Connection and her first full length novel, Life's What You Make It will be available in April 2014.